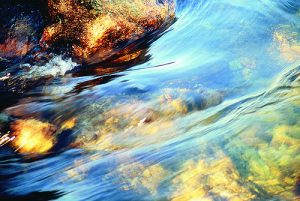 Maybe we get wiser. Maybe it is having less time. Whatever it is, lots of us in later years report some deeper, clearer understandings of what matters.
One great little book, one that pulls no punches on both the hard and good side of the journey, also beautifully captures what to look forward to in aging. The book is The Measure of My Years by Florida Maxwell Scott, which was written when she was in her early 80s. It captures the ups and the downs and the paradox of the later years. She calls the wisdom that comes with aging "the later clarities," and she writes of how to harvest them through some regular reflection. (Warning, it is not a normal self-help book; it is more like journaling and essays).
Scott, and this blog, are about how all the best in life is not behind you, if you spend some time savoring the right things, but, that said, the clarity we achieve comes through an ability to handle paradox and lots of both/ands and ambiguity, the kinds we did not need as much of in mid-life. Roles may have more defined and longer lasting when younger. Now we have to make it up as we go. A "day a time" helps with sore knees and energy that may come and go, and with fewer roles like parenting or career management to pour ourselves into, except the ones of our own making. We have to endure the ambiguity of loving more deeply than ever before and yet saying final good-byes to friends. We have to accept that our kids may have more say in our lives than they used to, and we rely on them instead of the other way around.
And we need to learn now to be ready for new bests. Of course, your best running times and career productivity are behind you, but friendships and capacity for wisdom, and emotional maturity… all these and more are reported regularly as new highs by those in their later years. But they do not show up if you don't look for them, or cultivate them in the ways that work best for you.
And for those of us lucky enough to be still married, the love experience here can get better as time goes on—no guarantees of course. An email note from a good friend said yesterday, as he cares for his wife during her last round of chemotherapy for cancer, "all this is bringing us even closer as we get ready for our 60th anniversary this summer." Wow to that!!
Here is author Scott talking about the paradox of still working on self-improvement while at the same time "letting yourself go" and ending the striving that has been dominant in earlier times.
"One can improve one's character to the very end and 'the later clarities' will be put down to our credit I feel sure. (but the opposite is also true) the comfortable number of things about which we need no longer bother."
~ The Measure of My Years , page 119
The latter years matter the most for a number of things—this theme runs throughout the blog year—but the middle age performance bias of our times has little knowledge of this. We can keep this as our little secret though… .no need to try to explain to the younger folks who rarely imagine this, nor is it their job to. They have other tasks to attend to. While we work on those later clarities.
Image above: "Clear water" by U.S. Fish and Wildlife Service Northeast Region,
Licensed under CC-BY 2.0
Original source via Flickr