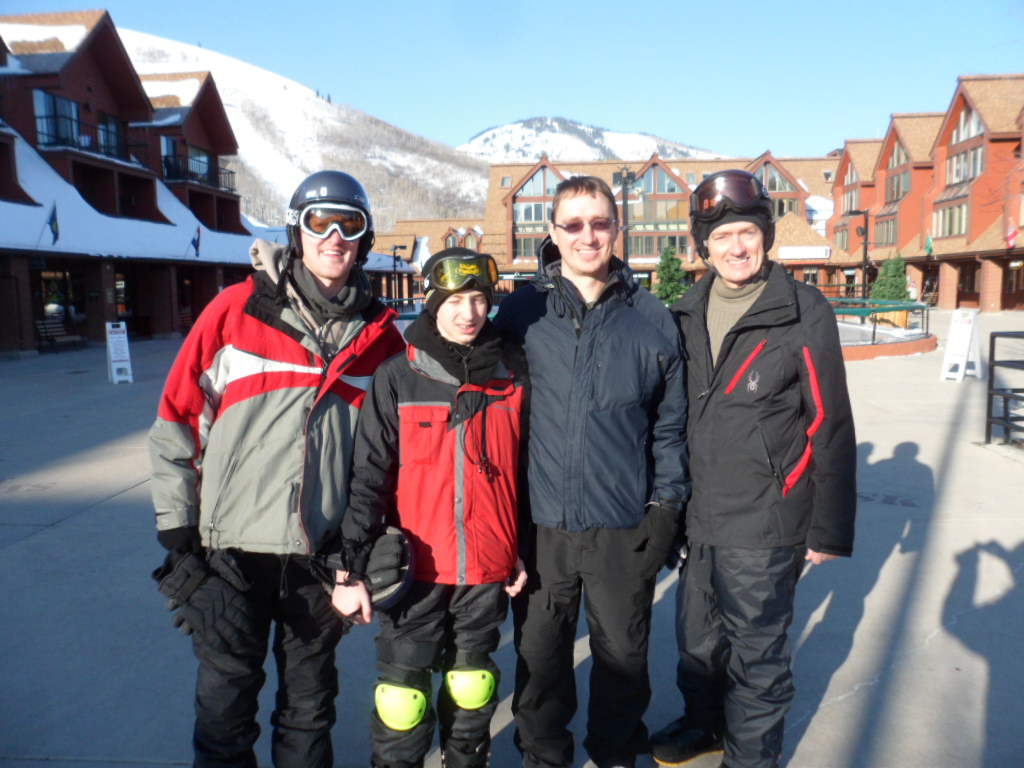 I went snowboarding for about the 18th time in 14 years a few weeks ago. When 50, on a bit of a lark, I learned how to snow board. I was already too old to do this. The young boarders call any boarder over 50 "a gray on a tray." That was me.
I so loved it. The joy of swooshing down the huge, miles-long slopes in Utah or Colorado. The bracing air, the snow sparkles, the athleticism. Eleven times I went with my sons so I could add the joy of being with them, and this last time, last month, I even had grandson Micah with us, his first time on the big mountains. Three generations on boards.
Two flashbacks will tell you why this last time to board, at age 63, is so poignant. In grade school one of my loves was sled riding in the winter. In Omaha, on its wonderful everywhere hills, I would spend whenever I could on a big hill, with my sled, going all day over makeshift jumps, hairpin turns, steep inclines… it was boy joy. I still smile recalling those times. Flashback #2. I am 50 and have woken up to day two of snowboard lessons one Copper Mountain Colorado. Day one with the instructor was learning the heel toe pressures and weight shifts it takes to stay on one edge and under control. Day one is a lot of falling down. I am stiff and need a hot bath. I look at my knees, bruised from lots of front falls, and wonder what the hell, especially at age 50, I am doing on a snowboard. I almost talk myself out of going a second day. Instead, I manage to not act my age and trudge off. And sure enough, by noon that second day, I am staying up more and I am hooked on the sport.
Flash forward to February 2012. On the top of a Park City mountain, from 10,000 feet on a sunny morning, I look at the valleys below and know this is my last run. My sons and grandson had left the day before. It is time to give up the sport while I am ahead. My son has already broken his collar bone on this very trip and he is a better boarder than me, and the pain of his surgical repair and recovery are real. He was not past his time, but I am past mine. He will be back.
I am on the slope mainly by myself on a quiet Tuesday morning. I take a green/blue route that will keep me from having to fight too much speed. I catch the flow one more time. I am not a great boarder, but I am good enough to enjoy its essence, the joy that the sixth grade boy had first tasted. The joy is intermingled with fear/thrill when I hit the long steep parts that accelerate the board, and me on top of it, at crazy speeds. I drop several thousand feet in the 20-minute run. It is exquisite.
I come to a stop, unbuckle my boots, knock the snow off the board and walk into the buzzing activity at the base of the mountain, its shops, rental stores, restaurants. I say good bye to yet another part of the boy that still lives in me. The inner boy lives alongside the adolescent, and the young and middle-aged inner adult, and the newly born elder I am. They all have a place. I relinquish the boy activity and savor its spirit. I feel graced by being able to say hello to so many good things, like boarding, and by yet another goodbye to the sweetness that comes with full engagement in some soul-charged aspect of life.
I don't like relinquishing very much. I would rather go boarding until I die. I would have liked to keep building my business with my 40-something, entrepreneurial energy until I wanted to give it up. I would like to teach, or write books about our soulful journeys, or coach, or takes walks with Patricia, until I think I have had enough. I will never have enough of boarding or many parts of life.
Whatever I find generative in life, I have had to let go of while it is still generative. That is the hard part. But it was time to move on. The next generative possibilities awaited me. As I let go of the old, sometimes I saw what might be next , and often I did not. But I must let go anyway, seen or unseen. The new generative life feature comes on its schedule, not mine, and it is often a surprise. It comes if and when I am spiritually ready to recognize it. It is there, and I have to give it a chance to emerge. More grace is around the corner, after we relinquish.
What are you ready to let go of?
Are you past due on letting go, like I was with snowboarding?
Are you sensing the early stages of a let go: a type of work, a relationship, an activity that has served you for years and no longer can be maintained?
What aren't you ready to let go of at all?
What has to go, and you are clinging to it like a climber on a rock face?
Grace awaits, and the pain of letting go, and the joy of the swoosh on the white, white crystalline snow.